ChipsAway Paint and Car Body Scratch Repair
Car scratches and scrapes in the paintwork can be horrible things to happen to your vehicle. No matter how they occur, scratches and paint damage are unsightly. They can drive down the resale value of your car and untreated scratches can lead to further damage at a later date. Left unrepaired, scratches can lead to exposing the body of the car, escalating into potential rust problems later on down the line.
By getting your car scratch repaired you can make sure you not only solve the immediate problems of unsightly damage, but you can also avoid additional costs in the future.
Originally, the only options for a car scratch repair would be to go into your local body shop or to use insurance premiums, both of which can be inconvenient and expensive. Here at ChipsAway, we offer a mobile car scratch repair service where we come to you, meaning that we can complete your car paint repair at a convenient time and place of your choosing. Now there is no excuse to leave those car scratches unattended.
SMART Repair from ChipsAway
Here at ChipsAway, our specialists use a method of car paint repair call SMART repair. SMART stands for Small to Medium Area Repair Technology, and is a technique used for repairing small areas of car bodywork damage, focusing strictly on the area that needs to be repaired rather than needing to repair or replace an entire car panel. Using this method means that we are able to provide car repairs that are much quicker and cheaper than those using traditional car repair techniques.
ChipsAway can complete car body scratch repairs conveniently, cost-effectively and to an extremely high standard. Our specialists can fix a range of damage including car door scratches, keyed car scratches and stone chip repairs no matter where they are on the car.

Get your FREE Estimate!
Professional Colour Matching
During the car scratch repair process, an accurate colour match is obtained using a Spectrophotometer, matching the manufacturer's finish. Therefore, instead of an expensive paint repair across a whole panel, our ChipsAway professionals only need to paint the damaged area.
So, whether you need one a car scratch removed, or multiple scuffs repaired, the work can be undertaken in a relatively short amount of time, restoring your car paintwork to a high quality.
To understand more about the ChipsAway SMART repair process and how we approach different forms of car scratch or paintwork damage, you can visit our FAQ section here.
Quick and Convenient Service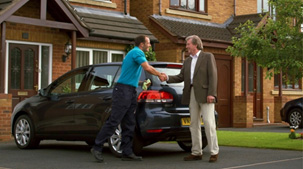 ChipsAway car scratch repair is designed to be as quick and convenient as possible. Typically, a ChipsAway repair will take just a few hours to complete, usually at a fraction of the price that a traditional body shop will charge. Since our specialists do not need to repair or replace an entire panel in order to complete a repair, our repairs are excellent value for money.
As well as a great price, all scratch repairs undertaken by ChipsAway professionals are fully guaranteed. Our fantastic service is designed to give you peace of mind. A large number of our ChipsAway specialists offer a mobile car scratch repair and removal service, where we come to you in order to fix your car, whether that is at home, when you are on holiday, or whilst you are working.
Some of our specialists operate from Car Care Centres as well as, or instead of, offering a mobile service. A large number of our Car Care Centres also offer a collect-and-return service for your convenience. Alternatively, some of our Centres can offer a courtesy car whilst we are getting your car back into fantastic condition. Contact us today to find out about the service we can offer you.
We have designed our service around you. By booking a paint repair with ChipsAway, we will help you save time and avoid the hassle of finding a suitable appointment to get your car fixed. Whether you're at home, work, or even away on holiday, our ChipsAway specialists will go the extra mile to make sure our service is as convenient as possible.
Why Use ChipsAway
ChipsAway has been established for over 20 years. In that time, we have built a fantastic reputation for providing high quality SMART car scratch repairs. Customers love us, and have given us a 5* Trustpilot rating for our fantastic service!
Aston Martin, Porsche, Mercedes-Benz and other prestige car owners trust ChipsAway for their repairs. Across the UK some of the biggest names in the automotive world trust the ChipsAway Network for their car body scratch repairs.
ChipsAway are also specialists in Minor Dents, Alloy Wheel Repair, Bumper Scuffs and Supagard Paint Protection.
Get your FREE Estimate!
ChipsAway Car Scratch Repair FAQ
Below are some of the most frequently asked questions around the car scratch repair process. If your question isn't answered below, feel free to explore our full list of car paint and dent repair FAQs here .
How Does SMART Repair Work?
SMART Repair is a process that allows for us to focus solely on the area of the car that needs repairing, without needing to repair a larger area than necessary.
We start by cleaning and drying the damaged area, to remove any dirt or wax that may interfere with the repair. We then carefully mask off the neighbouring panels and sand back the damaged area. We can then repair the damage layer by layer; this is then cured with an infrared lamp. The whole area is then expertly primed and resprayed in thin layers to create a high-quality colour matched finish. Finally, the panel is polished and buffed, so the paintwork looks as good as new.
How Can You Ensure The Paint Colour Will Match?
Here at ChipsAway we use colour-matching technology in order to precisely match the colour of our repair to the natural body colour of your car.
The way our colour matching technology works is we use the manufacturer's colour code and a piece of equipment called a spectrophotometer in order to identify the tones in the paint. Using that information it is possible for us to precisely replicate that colour and make sure our repair perfectly matches the colour of your car. This means you shouldn't be able to see the damage once the repair has been completed.
What is the Correct Aftercare once a Car Scratch has been Repaired?
Once the repair has been completed, the ChipsAway specialist will buff and polish the area to protect the repaired area. After that, to protect the area further, we do not recommend polishing or waxing the car for five days to allow the paint to fully cure. Once those five days are over, the car can be polished and waxed as normal.
How Much Does a Scratch Repair Cost?
At ChipsAway we specialise in economic and convenient repair that is designed to place your needs first. Due to our SMART repair method, we can fix a car scratch at a fraction of the cost of a tradition car repair. How much a precise repair costs will depend on the extent of the damage to your car.
Our minor bodywork repairs are usually cheaper than your car insurance excess, meaning that you don't need to make a claim.
You can find out more about the cost of a ChipsAway car paint repair here.